Jana Kramer Says Lori Loughlin and Felicity Huffman Deserve Jail for College Bribery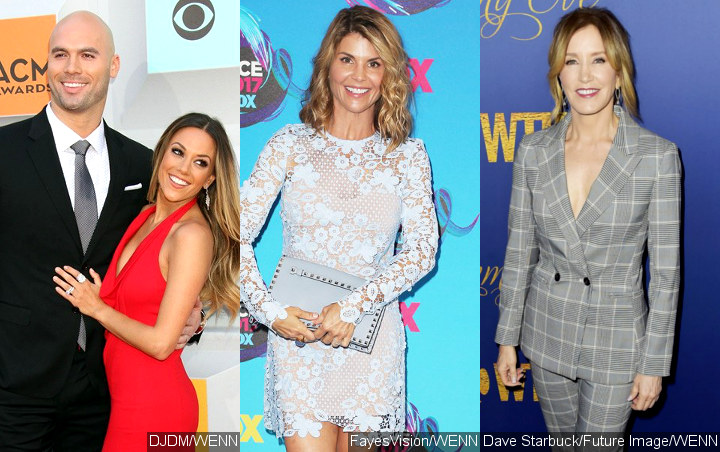 Believing that the 'Fuller House' actress and the 'Desperate Housewives' star should be shown no mercy in the case, the 'One Tree Hill' alum says, 'People go to jail for that, so you should.'
AceShowbiz –
Jana Kramer wants justice to be served in the college admissions scandal which involves two Hollywood stars, Lori Loughlin and Felicity Huffman. Regardless their celebrity statuses, the country music star thinks that both actresses should be treated equally to others who committed similar crimes, even if it means that they should go to jail.
The 35-year-old singer and her husband Mike Caussin weighed in on the case in the Monday, April 15 episode of their "Whine Down" podcast. "People go to jail for that, so you should," she said, before Mike added, "If it comes down to that, it's like, 'Hey, the law's the law.' "
Jana, who starred on "One Tree Hill" as Alex Dupre, also expressed her concerns that prosecutors would show leniency to Lori and Felicity due to their statuses as public figures. "What I don't agree with is making a, 'Well, they're a celebrity so we have to prove a point.' I don't like that," she said.
In her opinion, the mother of two said that if prosecutors treat the actresses like they would "everyone else," then Lori and Felicity should get jail time if found guilty.
Unlike Jana, "When Calls the Heart" star Paul Greene has shown his support for his former castmate Lori, who was fired from the Hallmark show following the bribery scandal. The actor said "everybody has really been very, very careful" about what they said during the filming in Canada, " 'cause it's a very sensitive time."
"Everybody is trying to collect themselves and pull it all together, make a statement that doesn't offend, but still supports, that's loving," he added. "Also everyone's dotting their i's and crossing their t's on the corporate side. Every angle you could look at this [from] has had to have been handled very carefully."
Felicity entered a guilty plea on April 8 and faces four to 10 months behind bars for her crimes for allegedly paying $15,000 to boost her 18-year-old daughter Sofia's college entrance exam score. As for Lori and her husband Mossimo Giannulli, they have been accused of paying $500,000 to get their daughters Olivia Jade and Bella admitted into the University of Southern California as row team recruits, while neither girl participated in the sport. The couple rejected plea deals that included two-year prison sentences.
Following her parents' not guilty plea, Isabella further shielded herself from the spotlight by deleting her Instagram page on Tuesday, April 16. Her younger sister Olivia still has her Instagram page up, though she hasn't posted anything since the scandal broke and has disabled comments on some of her last posts.