Kim Kardashian's Most Outrageous Moments
is probably one of the most controversial figures in Hollywood. She always manages to attract people's attention with her social media posts and her daring outfits. It remains to be seen whether Kim will start living "normally" soon, but here are her most outrageous moments that are just too entertaining to be missed.
Eating Her Placenta
Kim stirred a debate among fans after she revealed that she had been consuming her placenta since giving birth to her second child Saint West. Some people found the idea very disgusting, while others thought that it might be useful.
My experience eating my placenta is up on my app! https://t.co/0aC3YXxIgv pic.twitter.com/xcCEtVCvzb

— Kim Kardashian West (@KimKardashian) December 14, 2015
"So, I'm really not this holistic person or someone who would have ever considered eating my placenta," Kim wrote on her . "I actually thought Kourtney would have soooo done this, but I don't think she did," she continued. "And when I say 'eat my placenta,' I mean that I'm having it freeze-dried and made into a pill form – not actually fry it like a steak and eat it (which some people do, BTW)."
72-Day Marriage to Kris Humphries
When Kim and got married in 2011, no one expected that their marriage would end 72 days later. Her former publicist Jonathan Jaxson accused her of using the wedding as a publicity stunt. "Two weeks prior to her wedding she knew it was not something she wanted to do," Jonathan shared during an appearance on "Good Day L.A." "Unfortunately they were obligated to honor contracts [with E!] otherwise they would have owed a lot of people a lot of money."
Although a lot of people believed she faked her wedding, Kim revealed that she filed for divorce simply because she knew things wouldn't turn out well. "At the time I just thought, 'Holy s**t, I'm 30 years old, I better get this together. I better get married.' I think a lot of girls do go through that, where they freak out thinking they're getting old and all their friends are having kids," she shared during an appearance on "Watch What Happens Live with ". "So, it was more of that situation. But I knew on the honeymoon it wasn't going to work out."
Unretouched Butt Photos
Kim and sister jetted off to the Mexico for a vacation earlier this year, but it turned out to be a disaster for the mother-of-two as of her butt surfaced online. Since she's known for having a flawless body, people were surprised to see her cellulite captured on camera.
Everyone started accusing Kim of photoshopping her photos and calling her fake. She even lost 100,000 followers on Instagram as people were extremely disappointed in her. However, Kim wouldn't let anyone bring her down and hit back at her haters on Twitter. "Oh and as for me you ask? …I'm just sitting here on the beach with my flawless body," she wrote.
Oh and as for me you ask? …I'm just sitting here on the beach with my flawless body

— Kim Kardashian West (@KimKardashian) April 25, 2017
Transforming Into Virgin Mary for Kimoji
Kim received backlash after she released a new Kimoji which featured her as Virgin Mary. As if it wasn't controversial enough, the "" alum released the animated emojis to "honor" 420 a.k.a. Weed Day.
In addition to the emojis, Kim also released Virgin Mary candles which she sold on her website for $18. Her action was deemed inappropriate and offensive by many people around the world.
https://t.co/eiJ3Tfu6zn pic.twitter.com/K0CGr41tmg

— Kim Kardashian West (@KimKardashian) April 20, 2017
However, she didn't seem to care as she further added fuel to the conflict by wearing a see-through top which had an image of Virgin Mary embroidered on it.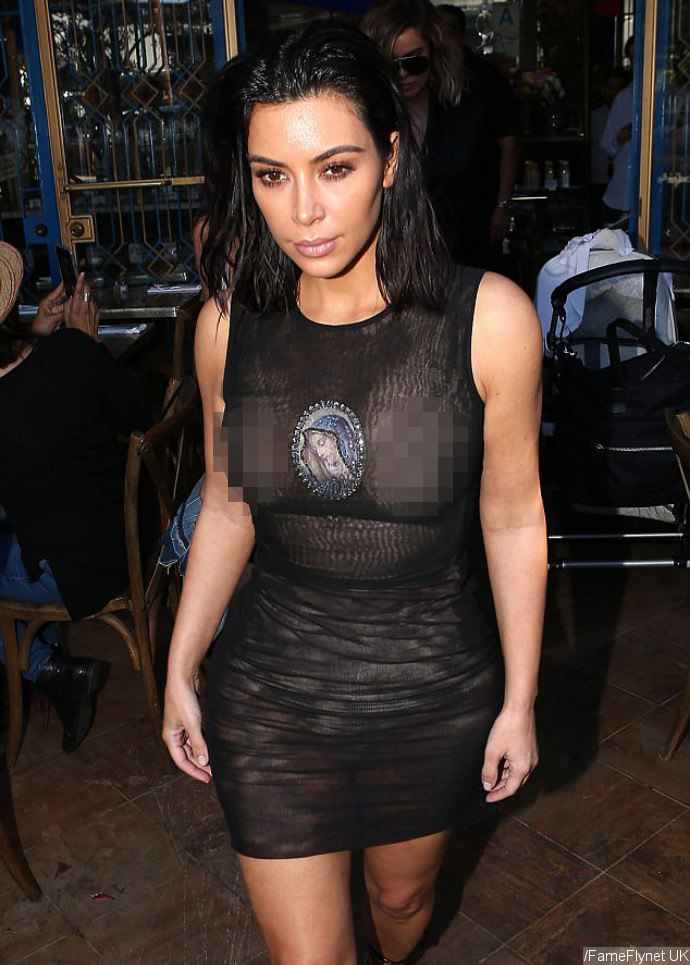 Naked Bathroom Selfie
Kim sent internet into a frenzy when she posted on Twitter her infamous naked bathroom selfie. "When you're like I have nothing to wear LOL," she wittily captioned the pic.
Although she censored her private parts, the photo sparked Twitter feud between Kim and , who thought that the reality TV star didn't set a good example for young women.
@KimKardashian I truly hope you realize how important setting goals are for young women, teaching them we have so much more to offer than-

— Chloë Grace Moretz (@ChloeGMoretz) March 7, 2016
Kim later hit back at Chloe for criticizing her in a very sarcastic tweet. "let's all welcome @ChloeGMoretz to twitter, since no one knows who she is. your nylon cover is cute boo," she tweeted.
let's all welcome @ChloeGMoretz to twitter, since no one knows who she is. your nylon cover is cute boo

— Kim Kardashian West (@KimKardashian) March 8, 2016
sided with Kim and posted their topless selfie later that month. "However sexual our bodies may be, we need to hve the freedom as women to choose whn & how we express our sexuality," she wrote alongside a photo of them posing in front of a mirror while lifting their middle fingers.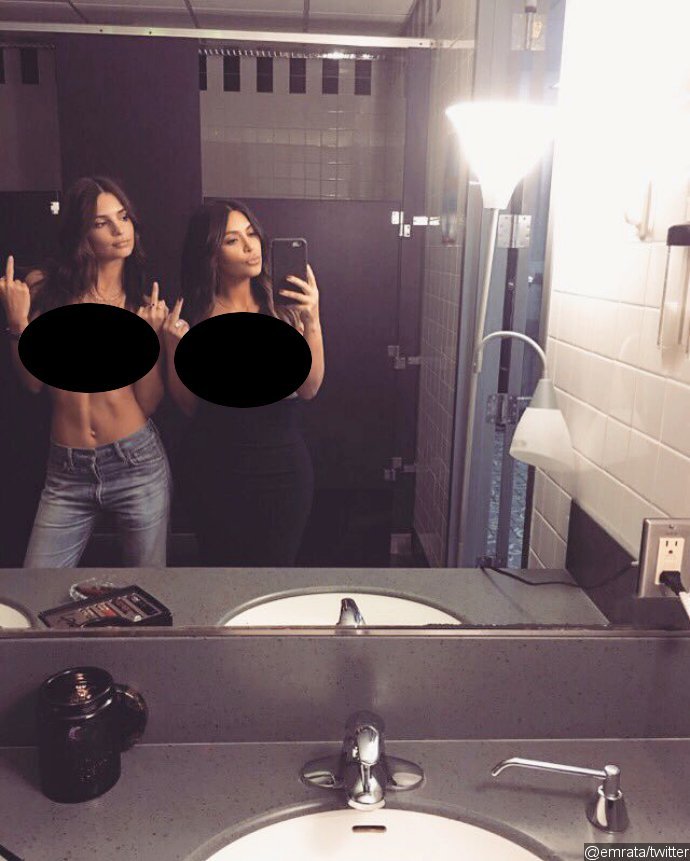 Sex Tape Leak
Back in 2003, when Kim still worked as a stylist to Brandy Norwood, she was dating her brother . In October that year, the then-couple went to Cabo, Mexico to celebrate her 23rd birthday. They recorded almost everything that happened during the celebration, including their sexual intercourse. In 2007, months before the first episode "" was aired, the tape leaked online. Kim filed a lawsuit against Vivid Entertainment, which distributed the tape. However, she later settled for an alleged $5 million.
People speculated that Kim purposely sold the tape in order to gain popularity, but she denied the rumors. "Maybe that's how some people heard of me but I didn't launch my career off of that," Kim told . "That was 12 years ago, no 13 years ago, so I just try to move on and put it in the past because I think everyone in life does things that they're not proud of but you can't sit and dwell on them forever."
© AceShowbiz.com