Photo: Beyonce Gets Risque and Glamorous at 'The Lion King' Premiere in L.A.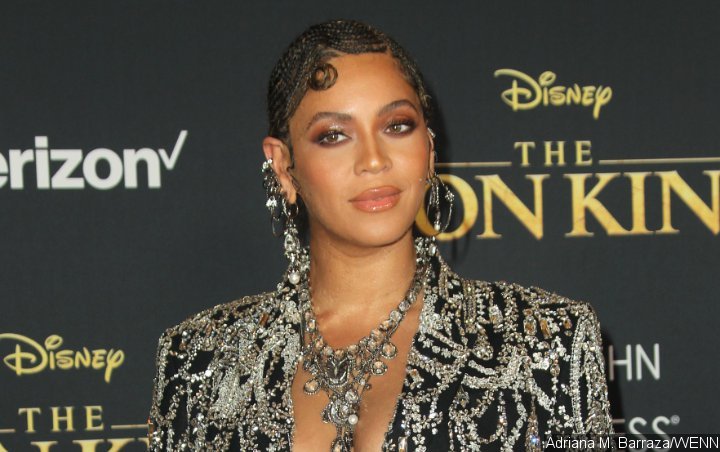 The 'Spirit' singer bares cleavage in a bespoke crystal chandelier embroidered tuxedo and takes her daughter Blue Ivy, who wears a matching black suit with sheer glittering skirt, to the red carpet event.
AceShowbiz –
Beyonce Knowles led the glamor at the Hollywood premiere of "The Lion King (2019)" on Tuesday, July 9. The R&B diva put a show-stopping look in a bespoke crystal chandelier embroidered tuxedo Alexander McQueen dress with a degrade crystal embroidered skirt as she arrived at the Dolby Theatre.
She showed some serious cleavage with the tuxedo's plunging neckline and flashed her toned thighs underneath the sheer skirt. She also sported crystal jewelry, crystal-embroidered pin heel sandals and carried a bedazzled chandelier embroidered box clutch with a jeweled handle.
The 37-year-old singer, who lends her voice for Nala in the Disney movie, took her daughter Blue Ivy to the special screening. The 7-year-old matched her mother in a black suit with silver crystal embellishment on the shoulders and sheer glittering skirt.
Beyonce and her daughter Blue Ivy wear matching outfits at 'The Lion King' premiere in Hollywood.
Also coming to support the premiere event were Beyonce's former Destiny's Child groupmates, Michelle Williams (II) and Kelly Rowland. Michelle literally shone in a mirrored mosaic dress, while Kelly opted for a zebra print ensemble as she arrived with her son, Titan Jewell Weatherspoon.
Donald Glover, Seth Rogen and Chiwetel Ejiofor were among the voice cast members who were spotted at the premiere. The night was made merrier with the arrival of more celebrity guests like Zooey Deschanel and sister Emily Deschanel, Yvette Nicole Brown, the newly announced Little Mermaid, Halle Bailey, Raven-Symone, Tiffany Haddish and LeAnn Rimes among others.
The new "Lion King" movie is a live-action take on Disney's 1994 animated musical film. It follows a young lion prince, who flees his kingdom after the murder of his father, only to learn the true meaning of responsibility and bravery. Directed by Jon Favreau, it opens in U.S. theaters on July 19.
See pictures from the premiere below.
1. Rule the Red Carpet
---
Beyonce exuded glamor in a crystal chandelier embroidered tuxedo Alexander McQueen dress.
2. Follow the Lead
---
Not to be outdone by her former groupmate, Michelle Williams was equally stunning in a mirrored mosaic dress.
3. Mommy Zebra and Groovy Son
---
Kelly Rowland embraced the movie's natural spirit with her zebra print dress, while her son Titan Jewell Weatherspoon showed his swag.
4. Bourgeoisie Look
---
Donald Glover looked crisp in a Gucci suit.
5. Warm and Classic
---
Seth Rogen teamed his black Prada suit with a colorful shirt.
6. Keep It Safe
---
Chiwetel Ejiofor opted for a traditional black-and-white number.
7. Bring the Tribal Spirit
---
John Kani and his family wore matching outfits that are inspired by African traditional clothing.
8. Angelic Look
---
Skai Jackson wore shiny silver dress with what looked like butterfly wings.
9. Similar, but Different
---
Zooey Deschanel opted for a quirky look in a polka dot print dress, while her sister Emily Deschanel looked elegant in a silver number.
10. Colorful Stripes
---
Yvette Nicole Brown oozed summer vibe with her striped dress.
11. The New Little Mermaid
---
Fresh of her casting news as The Little Mermaid, Halle Bailey stepped out with sister Chloe Bailey.
13. Bold in Black
---
Raven-Symone teamed her black dress with her eye-catching red-laced shoes.
14. Channeling Animal Spirit
---
LeAnn Rimes showed off her tan in a slinky, leopard print, floor-length dress.
15. Parade Mode
---
Patrick Starrr brought colors to the red carpet with her dress.